Custom Presentations
Wayne collaborates with organizations to create presentations, workshops, and webinars to fit both goals and budget.  Examples include:
Class series teaching journal writing to public school instructors so they could guide students in their system's 'Writing Across The Curriculum' program for City Schools of Decatur
Focus groups designed for writers seeking specific audience feedback to improve book content and publication launch
Lunch-n-Learn on "Developing A Successful Comprehensive Research Agenda" for professors, organized through pre-program panel interviews to focus message
Seminars with Power Point titled "Successfully Writing The Academic Story" on creativity in dissertation writing for incoming PhD candidates at the University of West Georgia's Department of Education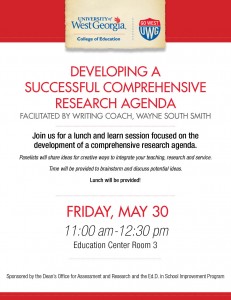 Available formats include:
half-hour lunch-n-learns
one-hour seminars
guided panel presentations
2-6 hour experiential workshops
multi-week classes
group coaching programs.
All events include a time-appropriate Q&A period.
To discuss your special presentation: