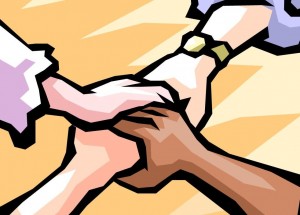 After a two month absence, the fourth member of the Creative Writers Workshop returned, completing the community.  This reunion, a special occasion, had sentiment, tradition and joy.
After checking in on creative issues, writing was reviewed.  One shared a piece developed over the last meetings, fiction prepared to satisfy an invitation for a journal launching on the other side of the world.  Another revisited and revised a memoir about her father, which she'll honor him with at an upcoming celebration for a milestone birthday.  Another, through a key revision of an early chapter, realized the template for her book, which combines illuminating instruction with memoir.  And the returnee came back blazing with a gut-wrenching true story, another stride toward taking chances in form and content.
Their process clarification, courageous risk-taking, and expansive creativity is fostered through the abundant safety that thrives in this community where trust runs deep.  Each began within the last year with a simple desire and now confidently call themselves 'writer.'
Is there someone with whom you excitedly share your writing and can't wait to hear their comments?  Who tells you the truth in a caring, nonjudgmental way while encouraging, honoring and respecting both you and your work?
Part of nurturing your written expression and yourself as a writer is to find those who will do the same.  Encouraging your growth helps them to grow, too.  You both feel this warm connection; you're in community.
Affirm:  I deserve a community of writers who inspire me and my writing process while allowing me to do the same for them.