The Last Line: Writing Through Grief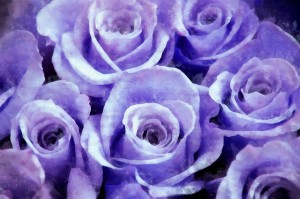 Friday morning before dawn, my mother's life came to a peaceful end after a 12-year struggle with Parkinson's Disease.
"Dad," I said on Saturday evening after the visitation as we sat in his home blankly watching TV.  "The minister asked if we wanted to prepare something for her eulogy."  I mentioned I'd talked to my brothers, and I briefly shared their stories with him.  I asked if he had something to share, adding how hard it is to sum up a loved one's life in a few paragraphs.  He said nothing.
I went upstairs and delved into 40 pages of remembrances I'd written over the last six years of Momma's life.  Through my tears, I pulled representative stories into a cohesive order, and then wrote the opening 600 words to tie it all together.  However, when I went to save it, I somehow lost what I'd written.  On this night before the funeral, I felt deflated and guilty, but intuitively knew the words had already served a higher purpose.
In the morning, I found Dad typing at his computer.
"It hit me when I woke up," he said with a grin.  "She was an only child, and when we married, she became part of a large extended family.  She loved that."
When he finished, he asked me to read it, then polish and add to it if I wanted.   His written words were simple, yet profound.
I sat alone with only moments to add a few details, including the final sentence he couldn't write about how the two of them stood side by side, heart to heart for 59 years, a statement about how much she loved him.
He smiled and nodded as he read the piece.  When he got to that last line and began to tear up, I realized that all my years of writing about her, along with the reading and writing the night before, had deepened my healing, clarity and compassion.  My contribution added something to Dad's words that touched his heart while honoring my brothers' stories and my mother's life.
My union with writing and the Creative Spirit I feel through the intimate process of journaling and memoir brings me home to my center and helps me extend to full presence with others by knowing myself more fully and deeply.  Writing nurtures my heart and spirit, then facilitates confident expression in times of sorrow and in times of love.
Affirm:  I allow my writing to serve my spirit, to clarify and lift me through my own words. This process, even when kept private, benefits me, as well as those in my family and community.