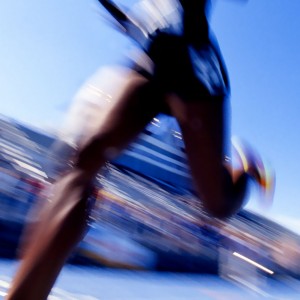 "I'll revise the first chapter just once more, polish it up, then I'll head into the next chapter," she said with the bravado of certain finality.
I tilted my head and inhaled deeply.  "Consider accepting the win and moving on."
"What win?  Why?" she asked, scrunching up her face.
"Because you have a strong foundation with the characters, plot, setting, and tone.  Go on to the next part."  I sipped some tea.  "Discover a little and feel the movement.  Play."
"I kinda want to get this chapter right—"
"It is right," I interjected.  "And know that when you move forward through the other chapters, the story's nuances will reveal themselves to you while you aren't studying your work, but breathing along with your writing."
Writers put so much pressure on themselves to get that first chapter, or even that first sentence, absolutely perfect before continuing the journey.  Witnessing this is like watching a sprinter leap forward at the starter pistol, then abruptly stop and return to the blocks to try and get the first step better while the race finishes down the stretch.
This is also how many of us look at the new year — as the fresh beginning, as the new first chapter, as the ultra-important opening line.  We make resolutions to do this or that, and they are mighty heavy packs to run with, pacts the vast majority of us drop within a few weeks or even a few days.
In 2013, release the pressure and feel the freedom.  Love your creative self.  Enjoy the levels of process to get from beginning to end successfully and the successive laps as you breathe into your writing.  Yes, there will be practice runs, lots of them.  There will be spills and tumbles.  And there will be adjustments through revision and editing, but by taking the steps at a good clip, embracing the grace of change, accepting the powerful lessons from missteps and the beauty of surprise, the story will smooth itself out, and you will run a fine race as a writer.
If writing is a desire in your heart, resolve to write, whether for yourself or an audience, whether formally or frivolously.  Whatever you write – thoughts and secret admissions in a journal, essays for a memoir, scenes for a screenplay or novel, a newsletter feature, song lyrics, poems of love, lust or loss, scribbles in notebooks or notes on napkins — feel the win every time you lay down the words.  Celebrate every single one this glorious new year and keep moving forward.  And make this the year of you, the writer.
Writer's Affirmation:  I claim each day as a fresh opportunity for creative exploration.  Because I write, I can call myself 'a writer.'  I feel good with every word I write, and I build upon this positive feeling by returning to write more.