A Blunt Object To Ease Self Doubt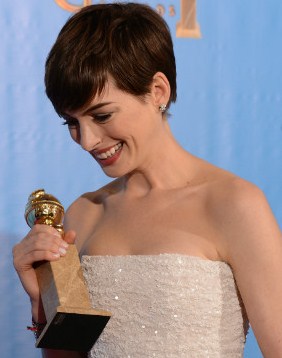 Accepting her Golden Globe statuette for her performance in "Les Misérables," Anne Hathaway humbly thanked the Hollywood Foreign Press Association "for this lovely blunt object, that I will forever use as a weapon against my self-doubt."  A humble admission of her truth from this graceful, poised movie star.
As writers, we are just like Hathaway — creative people who do our best work when we access the whole of our being.  The brightest side is often the easiest; the balance to that is found in the dark places.  Like the brave explorer or mythical hero, we have fierce dragons to face and steep mountains to conquer.  Those are the hills and valleys of our lives.  The conflict and resolution is what makes our stories inviting, relatable and captivating as the reader gets a feeling of camaraderie or perhaps simply a reflection into who they are, where they may go and what they may overcome.  This brings the laugh, the smile, the tears.
Don't wait for an award.  Claim one.  I claimed one early on – my first bylined published feature article.  When I felt that I couldn't move forward through the insecurity, I would look at it, know I'd achieved, and I could go that far and take, maybe, just one more step.
Perhaps it's a note from a teacher or an editor, even one bit of feedback you've penciled on a post-it from another writer you respect.  Maybe it's a quote that inspires you.  Maybe it's a soulful message you affirm for yourself from the depths of your inner truth.
Whatever it is, you don't have to use it as a weapon.  You don't have to hit yourself in the head with it.  But get it into your head as your truth.  No bludgeoning required.
Stand up and take the stage as your creative heart enthusiastically applauds your progress.  Firmly grasp your award, smile victoriously, and with all the happiness that pours from you, sincerely say 'thank you.'
Then move forward and write some more.
Affirm:  I seek and find an honest declaration to motivate writing from my heart.  I gracefully write from both light and dark places as all contain the many colors of my truth.