Three Bars in a Single's Joint, Still No Reception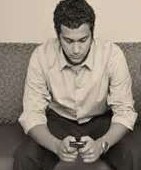 FADE IN:
INT, INTOWN RESTAURANT, NOON
PHYLLIS, a thirty-something single, sits with her best friend JANEEN eating and dishing.
PHYLLIS
So I order a martini last night and spot this guy on the other side of the bar…
JANEEN waves for the waiter, who passes them by, and PHYLLIS looks at his behind, grins and raises eyebrows.
PHYLLIS
…he's the right age, got curly dark hair, no facial hair and a nice build, so I stroll over to give him a better look.
JANEEN
Of you?
 PHYLLIS
Of course of me!  The place was dark, and I was wearing black. How else is he gonna see the curves?
JANEEN shrugs and stabs the last bits of her salad.
PHYLLIS
So I slink over holding my cocktail like a prize and position myself in his sight line, only he's looking down at his smartphone.
JANEEN
Dumbphone…another dumbass hiding behind social media while in front of a possible relationship.  It's like face time doesn't exist—
 PHYLLIS
—except in cyber space!
PHYLLIS aggressively flags down the waiter for the check.
 PHYLLIS
So through the whole time I sip, he never raises his head.  And I'm getting irritated, thinking he's probably sexting, and if I only had his number, I could text him something like 'Look up and catch my smile,' then I'm drinking more and getting pissed, ya know, like 'why bother coming out to meet people if you will never make eye contact?'
JANEEN nods and laughs.
PHYLLIS
And then it gets worse when I'm done with my drink and over this one-way stare-fest while he smiles and laughs at his phone, and I realize this stupid bar that's a WiFi HotSpot doesn't let me text the waitress to bring me another lemon drop!
JANEEN
Ugh, more insulting than getting broken up with by having your boyfriend change his relationship status to 'single' on Facebook.
PHYLLIS
No kidding!
The women simultaneously pull wallets from purses.
PHYLLIS
I had to go home!
JANEEN
Alone!
PHYLLIS drops her gaze from her friend's face to –
CLOSE UP—
JANEEN's hand wrapped around wallet with acrylic nails and a three-carat solitaire wedding set.
BACK TO—
MEDIUM SHOT of PHYLLIS putting her wallet away as the waiter sits the check on the table.
PHYLLIS
I think it's your turn to pay.
JANEEN takes the check, reads the total, then looks up at her friend.
JANEEN
Then how 'bout the next time you're angry, you just text me?
CLOSE UP—
PHYLLIS' eyes narrow, then widen as she smiles.
MEDIUM SHOT—
PHYLLIS reaches for the bill and JANEEN pulls it away, then with her free hand, takes PHYLLIS' hand.  They laugh.
JANEEN
Always fun to be with you!
FADE OUT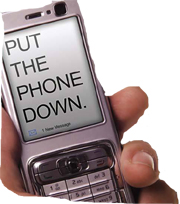 Want to write a screenplay?