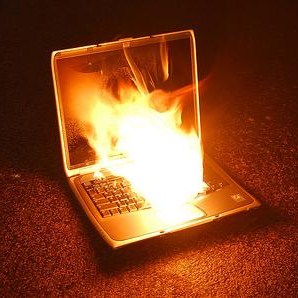 For the first time in this modern technological age, my computer cracked up.  No 'black screen of death.'  No smoke spiraled from the keyboard as ominous pipe organ music played.  No oozing blood like the stairs in "The Amityville Horror."  Simply refusing to boot up was dramatic enough.  However, after several failed attempts and forced shut downs, it finally did.  Everything seemed normal, except for accessing the internet.
'You have no wireless connectivity.'  The Help Screen mocked me while continually pointing me to assistance on the net.  From Its giant control panel in the clouds or supernatural crystal ball behind the Wizard's curtain, didn't It know that going there was impossible?  So, I sighed and took it in for diagnostics.
"Did you create a restore point?" the techie asked earnestly.  My facial expression told the tale, so he spouted an action plan – back up, wipe out the hard drive, and start over again.  My files were fastidiously backed up, but since I had wanted a larger external drive, I bought one for their operation.
Problem solved.  Everything was in place except for two things – all playlists in ITunes were present, but empty.  Still, I had my thousands of tunes, and I knew I could handle rebuilding the playlists.  Professional mailing lists were somehow also absent.  My heart stopped for a second until I remembered I could get the information from my mail servers.  I began to breathe easier.
I recall a client, an award-winning writer, who was the victim of a smash-and-grab.   She had taken her laptop to work and decided it was safest in the car.  When she called with the bad news, she asked if I had any hard copies of her work.  I didn't, and I asked if she had backups.  She quickly said 'yes,' then sputtered, "Ah, um, they were in the laptop bag."  In her continued search, few hard copies were found.  Even where prizes were won, copies didn't remain.  Years of work were gone, baby, gone.
Diligently protect your writing.  Choose two trustworthy locations where you can store them.
Backup to an external hard drive or disks, placing them in a fireproof safe at home or in a bank's safe deposit box.
Rocket your files to the Cloud, an internet storage facility, or email them to yourself.
Keep hard copies of important material in a safe place.
Writers depend on their computers.  Handing mine over to strangers where it was tagged and stacked with others could have riddled me with anxiety.  Though the inconvenience was irritating, I knew my work was safe.
I could easily replace the computer, but not my writing.