Client Success: International Education / Self Help Author Alex Smith
Study U Abroad, newly released in paperback and e-book by Alex Smith, explores the student's opportunities abroad to go beyond classroom learning and challenge ideas about self and the world to make a conscious impact on both. The book's 5 Keys and insightful stories of students' experiences create an easy-to-use framework to tackle challenges and get the most out of the experience abroad and back home.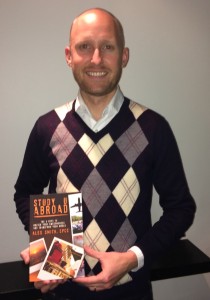 "I'm fascinated with international life and how one's identity shifts throughout the experience abroad," Alex said. "The growth can be both rewarding and painful."
As a Certified Professional Co-Active Coach, Alex saw the opportunity to introduce proven coaching strategies into the experience. "I specifically wanted to write for university students going abroad because they are tomorrow's leaders. They will impact change in the world."
Traveling, studying, and living abroad all influenced Alex's perspective from an early age. "I knew I wanted to live abroad after my first trip to Europe at thirteen years old. I spent two weeks in Iceland and the following year spent two weeks in Germany. During both trips I stayed with local families and had a truly immersive experience. It was amazing to meet these people and learn new ways of being."
As a young adult, his semester in Seville was such a rush that he didn't want to leave, a theme explored in the book which is common for many study abroad students. He did, however, find a way to move abroad again, living in Barcelona and Madrid before settling in Malmö, Sweden…for now.
"I continue to live the material in my book every day. I'm 34 years old, old enough to have lived and experienced life yet still young enough to be able to relate to university students. As an expat having moved to yet another country, my everyday life is similar to that of study abroad students." This discovery of self and place is fuel for a quality life of growth and happiness.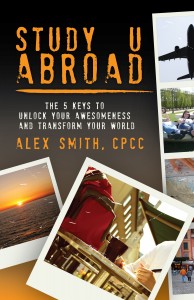 Another goal for the book is to impact the current conversation, both in the U.S. and worldwide, about increasing the number of students going abroad each year. "My hope is that Study U Abroad can add to the dialog by emphasizing the equal importance of 'how' we send students abroad. If we don't equip students with the proper tools, the experience can turn into missed opportunities."
Coming from personal experience of studying and living abroad, Alex's inspiration and excitement transfers to the reader through his words. "I believe in the power of study and travel abroad to change the world. It's when we open our minds and connect with curiosity to the people, places, and things around us that we create more understanding and compassion for them. It's been my experience that through this, we can awaken to the same for ourselves."
After our work together through drafting, revision and copy edit, Alex shared, "Working with Wayne in distance coaching sessions and editing gave me the support I needed to publish my book
."