Client Success: Women's Empowerment Author Suzanne Justice Carr
"I had no idea writing this book would affect me as much as it has," author Suzanne Carr said.
The New Third Act: A Woman's Guide to Midlife and Beyond is an invitation to empowerment culled from the author's life and the two decades of therapeutic work she has facilitated for women. "As I wrote, I saw my life more deeply and understood more than I had before."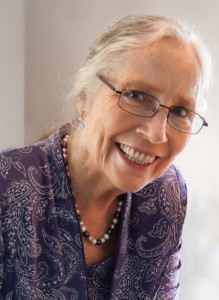 Carr, 81, known by most simply as Suzanne, has lived through cultural changes, including women's liberation. Not long after women burned their bras for emancipation, Suzanne held her baby on her lap while she took exams toward earning her PhD. Following careers as a music teacher, high school counselor and college professor, Suzanne became a licensed therapist at age 53. She still practices today.
Among stories of women illustrating the challenges and triumphs on the path to an inspired life, Suzanne's book also looks at her own life story during what is nostalgically viewed as a "simpler time," but one no less relevant as a mirror of opportunities for personal growth. For subsequent generations, dreams fostered in childhood still got lost among the responsibilities of family and career. She believes The New Third Act is the ideal time for rediscovery and reclamation of joy and fulfillment during life's pinnacle. Her first published book is a positive affirmation of this truth.
"Beyond my dissertation, I hadn't thought much about writing a book," Carr said, "and then you came along."
Suzanne and I met in the early 90s when I rented office space from her in my beginning years as a writing coach and editor. She joined one of my journaling groups and liked the camaraderie, which gave her an extra incentive to write for and about herself.
When she shared her seminar handouts and group discussion topics with me, I recognized the foundation of the book's structure. As she began to expand these into chapters, I posed additional questions and reflections, fueling her strength, inner investigation and writing further. The greatest gift which emerged was her kind, encouraging voice and how she used her own life as living example, allowing herself to be questioned and challenged while also gently guiding participants to reach larger goals. As we progressed, Suzanne came to trust that her work easily translated to the printed page.
Every author's process is different, and Suzanne's work, no doubt like her clinical psychotherapy methods, was patient and thorough. Like an archaeological dig on sacred ground, precious artifacts of her life and work were carefully uncovered, polished, pieced together and fully considered, then thoughtfully arranged.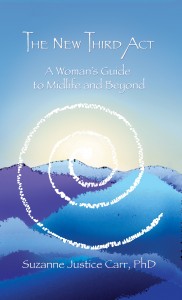 As the spiraled continuum on the book's cover illustrates, life simultaneously moves onward and goes inward. Suzanne uncovered deeper meanings of authenticity and feminine strength, embraced change while silencing the inner critic, and celebrated her true work through new and revised words. With starts and stops as the book took its turn among her array of life's responsibilities and joys, writing and editing became a ten-year labor of (mostly) love. The New Third Act became a vital part of her fulfillment in her own Third Act.
"I've opened up to things I might not have otherwise looked at or shared," Suzanne said. "When I wrote this, it was more for me. I was writing to get clear for myself."
And her search for genuine clarity and personal empowerment, now in print, invites other women to experience their unique journey through its reflection. What was her gift to herself and her community of clients is now a gift to women everywhere.
Cover design and author photo by Laura Nalesnik, www.mousewhiskers.com.
Info on Writer's Coaching and Editing.