Had Enough? Conquer Writer's Block!
Conquering Writer's Block, Winter dates TBD
Stuck? Fear-filled? Can't write?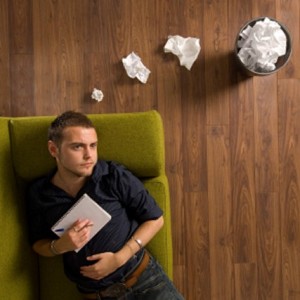 He read nightly about how to write from a stack of books at his bedside, sometimes realizing he never kept a pad and pen handy; maybe tomorrow…
She dreamed of writing for the movies but prided herself on being her own harshest critic; she overthought every creative choice and never finished the first screenplay.
His hero and muse was an 80-year old writer with a stellar career and a case full of awards; the young writer felt he could never measure up, foundering at 21.
She argued with anyone who dared read and comment on her work; her novel was never revised or published.
He had a hit with his first published book; he became paralyzed thinking lightning doesn't strike the same place twice and never wrote again.
Every reason not to write has an opposite reason TO write. And you have a choice—choose to believe you can write, use your creativity to find the right path, and put action to your belief!
Conquering Writer's Block is a 3-week workshop designed to crack the code to your block and get you writing. Through personal writing for clarity and group discussion for perspective, you will discover the limiting messages you feed yourself and gain the courage to stop your creative malnourishment and grow a healthy writer's consciousness.
She had so many stories to tell that she didn't know where to start; she wrote one story, received encouragement and quickly picked another story to write next.
He felt too emotionally distraught to write, trapped for weeks in the same loop; he wrote his fears on paper to witness and release them, clearing the space to persevere with his poetry.
She has 5 kids, ranging in age from elementary school to college; when they went to school, she "went to school" and finished her novel.
He has noise sensitivity to loud neighbors, TVs, and barking dogs that stole focus; he used his creativity and available resources to give himself the calm he needed to write.
She bogged down in personal issues while writing memoir; she discovered fiction, freely changing details and perspective in a way to share what had been impossible to consider sharing.
As you share your work with yourself, build upon the ability to share your writing with others. You will learn how to compassionately protect yourself from reviewers' slings and arrows, transforming critiques into the gift of feedback…and continue writing.
Conquering Writer's Block, Winter dates TBD