Client Success: Lynne Byrd Celebrates Community Visionary and Best Friend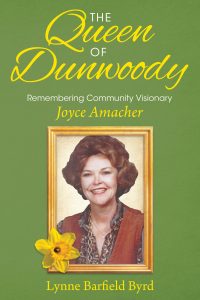 "I knew Joyce and her friends very well," Lynne Barfield Byrd shared of her best friend Joyce Amacher, the community visionary who passed away in February 2017 and is featured in Lynne's latest book The Queen of Dunwoody.  Lynne and Joyce became fast friends when Lynne's son and Joyce's daughter dated and eventually married.  They grew closer as co-grandparents of two little girls, co-authors of The Story of Dunwoody: 1971-2001, and co-founders of the Dunwoody Preservation Trust.  "Joyce and I worked hard to identify the descendants of pioneer families and save the remaining historic homes in Dunwoody."
"The book began with tributes from her friends along with remembrances of people who worked with her to make Dunwoody a great place to live." Lynne, the author of three books and a historian who has placed three Dunwoody homes on the National Register of Historic Places, started the book's research by interviewing Joyce's husband of over fifty years.  "I had some pleasant surprises when talking with Bill.  He's a reticent kind of man, but he straightened me out on a lot of details."
The Queen of Dunwoody is the story of Joyce Amacher, an Atlanta native who moved to Dunwoody in 1968 where she and her husband raised their family and she focused her talents and passion on community enrichment, fighting the effects of urban sprawl while advocating for architectural design standards.
As a visionary leader, Joyce knew the talents of other community members, encouraging them to contribute their best.  She served as charter member and one-time President of the Dunwoody Homeowners Association, the volunteer governing body until Dunwoody became a city in 2008. When the county planned to expand Ashford Dunwoody Road into a 4-lane, she was influential in gaining permission and funds to beautify the road with a tree-filled median.  In 1998 after a devastating tornado, she led efforts to replant the Dunwoody Forest.  She and Lynne spearheaded efforts to purchase and restore the Cheek-Spruill House, known as the Farmhouse.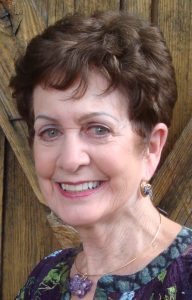 In writing and compiling this book, Lynne credits encouragers like her husband Noah who organized over 100 photos for this full-color publication, as well as a local group of first-time writers called "The Wow Girls."
And this is the second book Lynne has completed with me.  "I was fortunate to meet Wayne South Smith at his workshop at the Dunwoody library in 2013.  Wayne was the editor and project manager on my first book, a memoir called The Sweetness and the Pits: Remembrances of a Georgia Peach. I never could have done it by myself and probably would have given up trying without his help.  It was wonderful to work with him again on The Queen of Dunwoody.  Wayne is the most patient and encouraging person a writer could work with."
The Queen of Dunwoody will launch at the historic Donaldson-Bannister House on May 5, 2018 from 2-4pm.  Proceeds from sales will be evenly divided between Joyce's three favorite non-profits:  The Dunwoody Preservation Trust, The Dunwoody Garden Club, and the Dunwoody Homeowners Association.