Client Success: Dr. Linda Craighead Supports Kids and Parents Through Childhood Obesity
"Writing and sharing this book has been very rewarding as I'm giving many more people a resource than I could by seeing them individually," said Linda W. Craighead, Ph.D, licensed clinical psychologist and professor at Emory University.
Through simple concepts and energetic illustrations supporting both kids and parents, her book Training Your Inner Pup To Eat Well helps kids understand why their parents are concerned about their weight and empowers them to take ownership of their eating so it isn't a source of tension at home with parents seen as the "food police."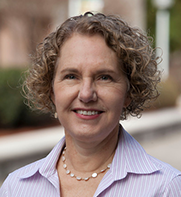 "I got the idea from working with a 12-year old boy who already weighed 222 pounds and had significant health problems related to obesity.  He and his family volunteered to be on The Dr. Oz Show in 2010 to draw attention to the increasing problem of child obesity. The show invited me as an obesity expert and asked me to follow up with the family to provide treatment."
Through her clinical work with adults, Dr. Craighead had developed an approach called Appetite Awareness Training which is available as a self-help book, The Appetite Awareness Workbook: How to Listen to Your Body and Overcome Bingeing, Overeating, and Obsession with Food.  She modified it for relevance and appeal to children/adolescents, and this resulted in Training Your Inner Pup to Eat Well.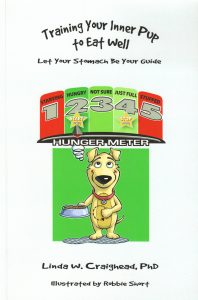 Through the process, she benefited from contributions from clients, grad students, and other therapists, particularly a group leading an obesity clinic in Iceland that first integrated the concept and shared their results.
"I started using the main metaphor of a dog after working with the 12-year old boy and his family for over a year. Then I trained other therapists to use the metaphor. Over time I wanted images for the concepts, and while searching the internet, I was lucky to find illustrator Robbie Short in Atlanta whose style was particularly appealing, not too young but with a sense of humor. He created the images, and the response from kids and parents was positive. This was something that all parents seemed to relate to. So, I wanted to make something available for any parent wanting guidance on positive ways to teach children healthy eating in what I call the 'food-rich environment.'
"Although I had written a textbook, the adult self-help book, and multiple journal articles," Dr. Craighead said, "I didn't enjoy writing this at first as I didn't feel like I was doing a good job writing for kids. I was surprised at how different it needed to be from all I had written before. I was again lucky to be referred to Wayne South Smith by a fellow psychologist who had benefited from his guidance.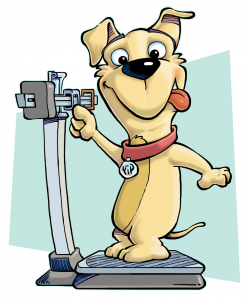 "The most fun was getting Wayne's comments and having that a-ha moment when he suggested a phrase or a word that was just right or sparked another idea in me. I don't know that I would have kept up the effort without having someone to check in and give feedback and guidance. I had a lot to learn about 'point of view,' as well as making the writing conversational and appealing to kids.
"The lesson I learned from this experience was to ask for help when I felt stuck in a writing project and that using a professional doesn't have to be a huge investment. They totally changed how I approached the book. I am so grateful I found Wayne and Robbie as they made this project a reality."