Client Success:  Heather Dobson's "Memoirs of a Future Ghost" Reveals the Truth of the Paranormal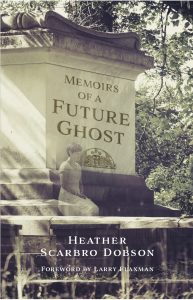 "One Sunday morning while grumpily clutching my coffee, I tuned into Ghost Adventures where Zak Bagans yet again found himself possessed by a demon," Heather says, rolling her eyes.  "I became frustrated, deciding right then and there that I would write an honest and thoughtful account of what it's really like to investigate the paranormal."
Memoirs of a Future Ghost shares the truth—the freaky, the funny, even the forlorn—of Heather Dobson's 12 years investigating ghosts and the people they haunt.  At its heart, this first memoir in a trilogy comes from her childhood fears of the unknown reflected by those of her children when they were wee tots, afraid of what was in their closets, under their beds, and outside their windows.  As diligently as she pursues evidence to prove the paranormal is, well, normal, she seeks the answer to the proverbial question, "Is there life after death?"  This passionate lifelong exploration, active on the front lines with her group Paranormal Georgia Investigations, combined with her love of science, a wicked sense of humor, and a maternal instinct, make her ideal to guide readers—even the most scaredy-pants ones—into the real world of the paranormal.
On writing, Heather unabashedly admits, "I am my own worst critic, so I knew I needed an editor. Whenever I searched for editors, the web results sounded cold and distant. My neighbor and friend Sheryl Parbhoo recommended Wayne from his work on her novel The Unexpected Daughter, so I reached out and our rapport was instant!"
Heather felt her book was practically finished when she submitted it to me.  Assuring her I could do the quick edit she requested, I admitted that I was taken with the writing but felt cheated.  I wanted to feel like I was there with her and the shadows, the disembodied voices, the other investigators.  I suggested she rewrite the collection of blog posts, giving herself freedom to flesh out the details to create a vivid account of these fantastic stories.
Her resistance was immediate but ephemeral.  "Because of Wayne's coaxing, coaching, and belief in my writing skills, my book became a cohesive story that I believe everyone could enjoy, whether ghost stories scare them or not."
"Though working with Wayne was easy, it was still challenging when he would say, 'I know there's more here. I want more.' I would ignore that note, move on to easier things in the manuscript, and walk away from my computer, stewing on 'more.' Usually the next day, I was ready to give more. And then I got him back by inserting more exclamation points than he knew what to do with!!"
I survived the onslaught thanks to the "delete" key.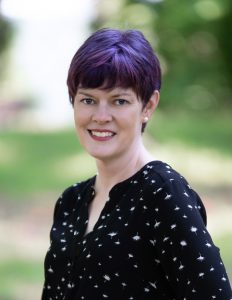 Heather adds, "My biggest lesson from this experience is that I'm capable of writing a book. And that I have a voice people enjoy reading. And to tell Miss Negative Nelly who resides in my head that she's a bitter woman who needs to shut the hell up.
"Honestly, across the board, even when I do things well, I feel as though I'm a failure. For the first time in my life, I'm really proud of myself. And that's saying something."
And that's an everlasting truth…to be continued as Heather concurrently works on her second and third books in the trilogy to be published in the summers of 2020 and 2021, covering your reading for the next three Halloweens.
Buy Heather's book or e-book, or see her at  DragonCon or other appearances.