Client Success: Vanderyt Publishes Memoir Sequel "Obsidian Rose"
"My inspiration for writing Obsidian Rose was feeling like I had unfinished business," Karen Vanderyt said about her sequel to 2012's Afterglow. "My writing process was smoother, probably because I had a bit more confidence after editing and publishing my first book, but also because I had worked through a lot of things emotionally."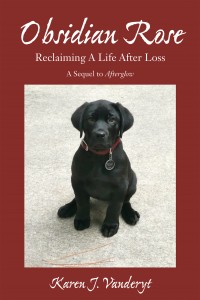 Afterglow: Remembering A Life Well Lived, her memoir about commitment and family, heartbreak and loss, was heralded a love story. This exercise in remembrance came soon after losing her husband of 39 years, Bill, to incurable brain cancer. She wrote to attempt to make sense of those swift three months from diagnosis until his passing.
Obsidian Rose: Reclaiming A Life After Loss shows her reality still full of memories and mourning, but how bringing a Lab puppy into her home while navigating everyday hills and valleys reinforced her determination to create a new life for herself. The pup became a touchpoint, and in turn, the title of the book. To all who know her, she's lovingly called Siddie.
"Writing the sequel enabled me to be more proactive about doing something about the disease that Bill died of. I have worked through a lot of anger, and I want to feel as if I have made a contribution by supporting Accelerate Brain Cancer Cure and sharing with others my own healing process." Karen donates all proceeds from both titles to ABC2 for their mission "to invest in research aimed at finding the fastest possible route to a cure."
Shortly after publishing her first book, Karen began anew. "It was nice to take a break from the writing routine, but I found I missed it and started carving out a few mornings a week to write, and the process flowed."
Her biggest encouragement came from family and friends, even strangers who identified with her grieving process. "There is a special bond that only another person who has suffered a similar loss can truly understand."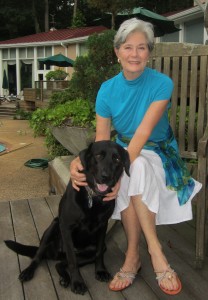 With our ongoing creative relationship of 14 years, she credits our bond of trust and our lively concept meetings as the most fruitful part of her writing process. "They encouraged me to explore deeper levels of meaning," Karen said. "You push writers to better themselves and their product."
"Getting the book to print was challenging because there were several things going on at once: editing, proofing, website design, navigating social media, and traveling to visit my three grown children and my eight grands! Life does go on…" She also set a deadline to publish in May to coincide with Brain Tumor Awareness Month, which we achieved.
Currently, she is building a home in Oregon on land she and Bill bought decades ago, land where they planned to fulfill a dream of retirement, a dream she is realizing. "I'm giving myself permission to take a break from writing, and then, I'm going to explore writing a love story about my parent's early years together based on the love letters my dad, Norm Van Brocklin, wrote to my mom, Gloria Schieve, during the special time in our nation's history after WWII. And, either concurrently or after that, I'll work on closing the trilogy of memoirs, writing about restoring life after loss. But I realize that requires living life for a while! And there is great fulfillment in saying 'yes' to life."
And no doubt, Siddie will be right by her side.
Visit Karen's website and order books in paperback and e-book formats.